Welcome to the new look Weekend Blogshare!
I took over the weekend blogshare from the fabulous Single Mother Ahoy, at quite short notice and quickly came up with an image to use but it never quite felt right. Since then, on average, a wonderful 30 of you link up, each and every week and with my commenting commitments, along with the school holidays and lots of trips and days out, I've just not had a minute to spare. Until now.
I hope you like the new look. I wanted something that reflected the standard and quality of the posts that are linked and for it not to be so bright and garish. Something a little more classy…. What do you think?
I have also created a blog badge (at the bottom the of the post) and I would be honoured for you to add it to a post of your choice each week or into your sidebar. Lets get some more people linking up, our blogs better known and our bounce rate down!
Don't be afraid to ask if you're not sure how to do it.
So, since this time last week, we have been for a fabulous surprise day out at the South Lakes Zoo, in the Lake District, quite a bit of quiet time at home as I have been struggling with pain and fatigue but I made the effort for a great day out at the seaside and was so glad that I did.
On to the new look blogshare.
Joining this linky will require you to comment on a minimum of 3 posts.
I will personally comment on every post.
Please:
• visit the 2 blogs ahead of you in the linky and leave a meaningful comment
• comment on 1 of my blog posts
• add #weekendblogshare to your comment so writers know how you found them
• add my blog badge to a post each week or into your sidebar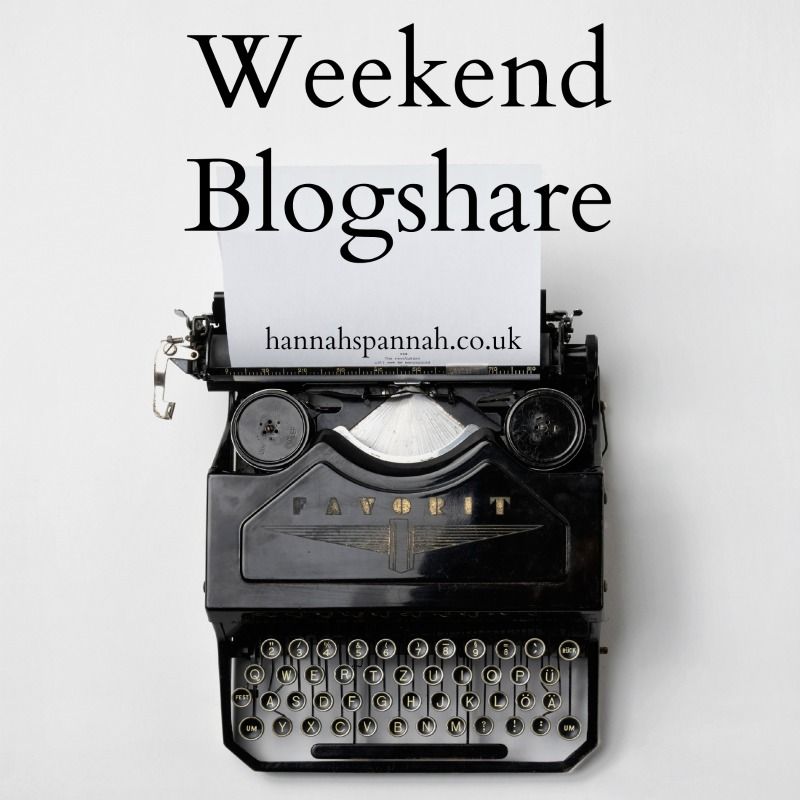 Thank you for joining us and I look forward to reading your posts.
Loading InLinkz ...
Love
Other Linky's you can join
Weekend Linkys
PoCoLo with VeViVos
The Big Fat Linky of the Week with the Dad Network
Welcome to the Weekend with Claire Justine
Feature Fridays with Couponin Diva
Anything and Everything with Mummy Space
Momsterlink with Domesticated Momster
Sunday Share Fest with Messed Up Mum and Girl Gone Coastal
Image of the Week on Truly Madly Kids – opens on a Friday
Saturday is Caption Day on Chelseamamma – post a photo for people to caption
Vloject52 on Chelseamamma – post a video less than a minute in length
#BoldAndBeautiful on Frazzled Beauty for any fashion or beauty posts
Car Seat Sunday on A Rear Facing Family – for car seat posts
The Vlog Vault on The Dad Network – for your vlog posts
The Lifestyle Linjup on Fuzzy Peaches – runs every Sunday
#CheckOutThatView with South West Reviews – for photos of a pretty view
Weekend Wind Down with Motivated Days
The Weekend Book Club with Beau is Blue
Simple Sundays with Simple Plate
Your Inspired Design with Potentially Chic
Keep Calm and Carry On Linking Sunday with A Moment With Franca
Share the Love Link Party with Pro Female Blogger
The Lovin' Life Linky with Deep Fried Fruit – runs Sunday to Thursday
Monday Linkys
Blogging to Jogging with Kate on Thin Ice – for health and fitness related posts
Read With Me with Mamma Mummy Mum – for book reviews
Living Arrows with Shutterflies – for portraits of our children
Goal Setting for Greatness on my other site
#AnythingGoes on My Random Musings – this one actually runs for the entire week.
Maternity Mondays with Farmer's Wife & Mummy – for all things pregnancy, baby & maternity
Tuesday Linkys
Tried and Tested with Family Fever – for reviews
Poin & Shoot with You Baby Me Mummy & Snowing Indoors
Toddler Approved Tuesday with LarabeeUK and 3 Princesses and 1 Dude
Animal Tales with Rosie from Eco Gites – for animal related posts (runs until Thursday)
Bible Scripture Creative Writing Prompt on Decision. Christ.
Tuesday Treasures with Rachel Swirl
Wednesday Linkys
Wordless Wednesday on Single Mother Ahoy – for photo posts
Weight Loss Wednesday on Sims Life – for weight loss posts
Small Steps, Amazing Achievements with Our Little Escapades – for all your children's achievements
#HappyQuacks with Mama Duck Quacks and Modern Dad Pages – runs until Sunday pm, anything that makes you smile.
Thursday Linkys
Reasons to be Cheerful with Ojo's World and Lakes Single Mum
Thankful Thursday with Monkeyfooted Mummy
Love Where I Live with Entertaining Elliott
Find Your Tribe with Hannah Spannah – specifically for blogs created since 2014.
Parenting Picks with MamaMim
#MyFavouriteTrip with Our Seaside Baby
Friday Linkys
Friday Fabulous with Attachment Mummy
The List with Friday Fabulous and Mum's Days
#EffitFriday with Life With Baby Kicks – for ranty posts
#FridayFrolics with Life, Love and Dirty Dishes
Gratitude and Goals with Velvet Rose
Friday Funday with Silly Baby Blog
Fitness Friday with The Melton House
#HomeMattersParty at Life with Lorelai – runs til Monday
Monthly Linkys
Moving Pictures with You Baby Me Mummy, Snowing Indoors & Mr & Mrs T Plus 3 – runs for 2 weeks from the 1st
#Blogstorm – for posts with blogging tips with Inside Martyn's Thoughts & Life With Baby Kicks – open for 2 weeks from the 29th
Family Fun Ideas on Seasonal Family Fun – fun things to do with the family; opens on the 1st of each month and runs for the whole month.
Days Out with a Toddler on Babyfoote
#WhatIMade with Farmer's Wife & Mummy – for all things creative & home made
Family Fun Ideas with Seasonal Family Fun – begins on the 1st and open all month for things to do with the family
If you run a linky you would like added to this list, please get in touch!