Deershed Family Festival Review.
We live in North Yorkshire and love it. Every year, Deershed Family Festival takes place near Thirsk and it isn't too far away from us. Now in it's 7th year, we were invited to attend for the weekend (July 2016) and let them and you know what we thought of it. Every year they have a theme. Past years have included "Monsters', 'Machines', 'Up in the Air' and this year's theme was 'At the Movies'. There was a crew and cast call prior to the Festival and then a lot of filming took place at the festival.
I was really looking forward to it for so many reasons. I know a few people that have attended more than once and they rave about it. For the last few years, I've heard the chatter about it in the school playground or at one of our classes and desperately wanted to be saying 'Us too! We're going as well'. This year, because I had been doing lots of training courses locally, I made new friends who were also going and the build up made it even more exciting. Bear and I were also very much looking forward to our first night under canvas. We have been 'camping' in my sisters camper van but as I was brought up camping in the Dales, it is something that I have always wanted to do but my health mostly prevents it. This time though, my sister and her husband decided to come with us and offered to support me as much as I needed including putting my tent up. Thanks guys.
We arrived on the Friday at about 1pm, straight after my son's pre school sports day. Now one thing that had escaped my notice until I was making my last minute checks to the website, was that they have a separate camping area for people with disabilities. The difference, I found, was that you can park your car much closer to the camping area, they have dedicated staff to help you unload your car, ferry your equipment to your pitch and help you put your tent up. They have a member of staff that camps in the area for assistance, 2 accessible portaloo's near the camping area and it is very close to the entrance. The First Aid Tent was also just outside of this area and they had a fridge that you could store your medication in.
I arrived and obviously because I hadn't been aware of this fabulous service that they provide, (my fault, not theirs) I hadn't booked a pitch. Now I don't advise following my lead as you may well not get space without booking in advance but I was very lucky that a quick conversation between the gate staff and someone higher up meant that I was squeezed into the accessible area. I am so thankful. I had my family to help me but this made it even easier.
My sister and her husband parked in their camper van and that area was at the furthest point of the camping area, away from the area but was well organised. If you camp in the normal area, it is a huge space and if you arrive early enough, you can choose to pitch close to the arena so walking is reduced or up near the camper vans where it is probably quieter however, Bear and I went to sleep at about 11pm, with some music continuing to the early hours but it didn't disturb us at all and we were quite close to the entrance. The main camping area has their own carpark as local council regulations do not allow vehicles near tents and so in theory, depending on how many people get there before you, you could have a long walk carrying your equipment to your chosen spot.
Deershed have thought about this and invite Mr Trolley to provide their fabulous carts. You can hire one by the half hour and you could load it up to carry all the heavy items that a family would need to camp for two nights. These carts can then be hired in their basic form or transformed into luxury wagons with a yoga mat style floor, padded cushions all around and a hood, to take the strain off younger children's legs and means that they can nap and rest whilst you make the most of the acts.
As they are initially provided for equipment ferrying, you can't hire one until 8pm on Friday Night which is a bit late for most people who's children may have been getting very tired by that point but I can understand why. I 100% recommend booking on line in advance. It's really easy, they take paypal and then you don't have to worry about not getting one. I don't know if any were available without pre booking as the queue to collect them was huge. Once you have collected it though, its yours for the weekend.
One thing that was an issue was that you had to collect it from the main carpark which in my physical condition, is a long walk away. I asked a member of the Deershed staff for advice and they radioed for someone to help me. I had to leave a £100 cash deposit for the cart and needed to get that from the cash machine and because of this, and us not knowing if I had to show ID for the collection, it made it tricky for this gentleman to go on my behalf, but, he was willing to give it a go. It would be nice if in the future, there was the possibility of adding a note to your booking so that if you were staying in the accessible area, it could be collected nearer the arena entrance but I appreciate that this would require losing a member of staff from the main collection area that was very busy. I didn't need ID in the end so I guess my sister or the member of staff could have gone for me and I'd suggest that a friend or family member collect yours for you too if you can not manage the walk.
However. Bear LOVED it. He loved pulling it, sitting in it, laying and listening to music in it and he even napped in it. You'll note that he was wearing ear defenders. These in my opinion, are a must. My sister and I found that at the top of the hill, the music on
the main stage was at about the right volume for me and I wouldn't have wanted to be much closer. I certainly wanted to protect my son's ears and he himself wanted them. I saw teeny babies wearing mini versions and older children walking around in them or enjoying the atmosphere inside a tent. You could buy them there but I got mine in advance and think I made a saving.
So what was the actual festival like?
Brilliant. Before we even entered the arena, Bear was having a whale of a time. They had a circus skills area with classes that ran through the weekend and a recycled drumming area that we had to have a go on, every time we entered and exited.
The first thing we did was to join in with our first ever silent disco. It was so cool and it was so much fun!! The best bit for me was watching a family come in. The parents were really going for it and giving it some – jumping, dancing, whooping and throwing some serious shapes. The three children stood with their headphones on, not moving a muscle other than to watch their parents, open mouthed, without a clue what was going in in front of them! I sat on my walking stick that turns into a seat and 'danced' and Bear loved it.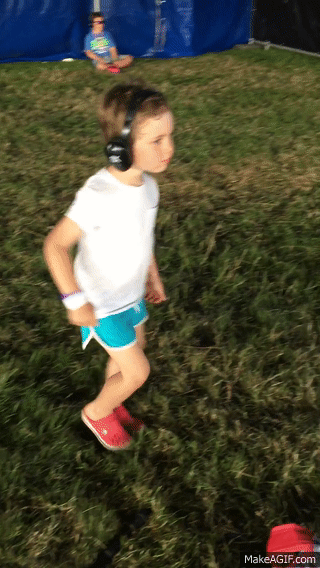 There was so much to do over the weekend. They had more than 80 activities from theme activities including Mime workshops, TV, Stage Combat and Accents and Improv Workshops and loads of craft activities ranging from screen printing, stop animation,minion making, super hero mask making, mine craft heads and sock slugs. They also hold green craft sessions like willow weaving and felt making. There is no way I can list them but take a look at the website to get a feel of what's on offer.
We actually didn't manage to take part in well, any of them! I think that because it was my first year, my family and I were in different parts of the camp, and Bear was the only child in our group, we spent our time just taking in the atmosphere and thoroughly enjoyed the things that we did. I didn't want to have to put Bear on a schedule and tear him away from the things he was enjoying. I also think that my health impacted on what we did as to be brutally honest, we didn't explore the entire arena area as I just couldn't wander around so much. I didn't find most of the workshop tents and area's but that wasn't down to sign posting, I think it's just because I'm a single Mummy and so there was no one else to take him off to do activities with and I had to conserve my energy. I took my stick with me and saw some electric wheelchairs managing the grass better than I thought they would but I was in a lot of pain and would have loved an electric scooter. I really want to return next year and will have a better idea of where to find things and how to go about it all.
A lot of the activities were aimed at over 5's and we had a wander through the science tent (that looked amazing and very high tech with lego and smart pads and dj decs etc) but nothing really enticed Bear. I know 100% that if he were older though, he would love to take part. I noticed that some things required booking and so I'd check the activities out first, book slots and then wander around. They had some great sensory activities for younger children, music and rattle drop in's, messy play and dance workshops though. If you are thinking of taking a young baby with you, fear not, as the NCT are there year after year with a tent that provides food and bottle warming, sterilisation, facilities for bath time, a feeding area and high chairs.
The fact that he was a little too young (4 years old) or we didn't find a lot of the activities was not a problem to Bear though. There was an old fashioned fairground with a Helter Skelter, Ferris Wheel and Chair Swings. He had 1 go on each ride on both days, but spread out through the day.
So what did we do? We sat and chatted. Bear rolled down the hill and ran around with children he had just met. He had a go on the brilliant swing ball field (seriously, about 30 swing balls all set up on a pitch) and spent a lot of time in the under 5's tent that had a big sand pit, soft play, sit in cars, space hoppers and deckchairs for the adults.
We also spent a lot of time at the various vender stalls. There was one that was selling animal tails (who knew that this was a thing?) and they had a big wicker basket of dinosaur tales, fox tails, a squirrel tale, various others, and my son's favourite, a rainbow tail, that children (and a number of adults) could try on and have fun with.
The other stall that we spent a lot of time at was the Bubble Inc stall. It was brilliant! They had so many display versions of their products that all the children were playing with, people were demonstrating huge bubbles (that all the children were trying to pop) and machines that created a cloud of dry ice bubbles. Very cool. We made a purchase so didn't feel too bad but no parent could walk past without losing 10 minutes!
We listened to lots of different music. Either ambient or as the main audience and were introduced to new bands and groups. I particularly liked Meilr Jones on the Lodge Stage and Rhain on the Obelisk Stage.
They had a large tent (the Big Top) that had shows and performances including Samson the Bubbleman, The Kagools and The Card Ninja, a smaller music tent – The Lodge Stage, the Main Stage and then over the hill, the Obelisk Stage that held intimate performances and my highlight of the festival, listening to the wonderful Hollie McNish perform some spoken word taken from her recent book 'Nobody told me'. I first watched her videos on youtube when Embarrassed and Mathematics went viral and also went to one of her shows in Leeds a couple of years ago. The tent was packed and it was so cool to listen to my neighbour, Kate Fox, interview her on stage. Kate is a fabulous and well known stand up poet who has appeared on BBC1 and often on Radio4. Somewhere, there was also the In the Dock stage!
A lot of the arty, crafty activities were going on in the area near the Obelisk Stage but the weather was beautiful and Bear just wanted to run round. I saw some children with the Shaun the Sheep models that they made in the Arrdman modelling class (one of only a couple of activities that carried a charge of approx £3) and they were excellent. I can't wait until Bear is old enough to do something like that ( so I can do it too).
This Year, Queen Mary's School (who sits within the Festival grounds) lent the festival their sports field to use, which gave them the opportunity to go all out with Sports activities. They had school playground games such as British Bulldog and Blocky, Rounders, Handball, Giant Hungry Hippo's, Frisbee and more. One thing that Bear loved, was the BMX skills workshops and I was insanely proud that at 4 years old, he got on a strange new bike and took on ramps!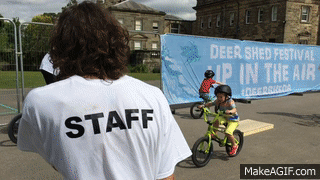 Food
The food was heavenly. No run of the mill burger vans here. They had speciality vendors including a real Sausages hot dog stand, fish finger butties, jacket potatoes and pasta, wood fired pizza (the most popular by far with a massive queue at times but worth it) mexican, a Thai tuk tuk, Spanish churro's, donuts, cheesecake, cooked to order gourmet burgers, soup and a sandwich and more. My favourite that was recommended to me by one of my son's preschool teachers, was Ghandi's flip flop. A vegetarian Indian tent with a relaxed seating area or benches. their food was amazing. I had a Thaili which had 3 different curries, rice, chapati and poppadom with lime pickle, yogurt and coriander salad. WOW.
The beer tents sold Beer and Cider for £3 a pint. I have to say that I never went into one as my brother in law was on beer duty so I can't say what else they sold but you were allowed to have your own alcohol in the camping area. I can confirm that the cider was very nice!
Camping was a great experience that we both enjoyed. They have showers at a small price, lots of toilets that despite the heat, were not disgusting, pots and pan washing area's and everything that you'd need, except electric hook ups. Talking of electricity, you could hire a battery pack for your mobile phone if needed which was a godsend.
On both nights, we ate and got the wagon ready for relaxing with pillows and sleeping bag, and like others, made our way to the hill opposite the main stage.
Although I found the main stage acts, especially on Saturday night, a little to 'Rock' for my liking, the atmosphere was great and we all loved just sitting and taking it all in.
I battled on for as long as I could but on Sunday morning, Bear was picked up by his Daddy, from the park gates and my body decided that enough was enough. We took the tent down and packed up and then went back in to the arena to enjoy the day but by lunchtime, I was in so much pain and my morphine, combined with exhaustion, put me in a near coma in one of the very comfy Obelisk stage chairs! So much so that I had to leave before the 'Sing a long Pitch Perfect' event that I had been so looking forward to. I was gutted as my friend had travelled up with the performers and I had got to know them but I just couldn't go on.
I don't even know if it's possible what with the terrain and all, but I'd love to see a path of sorts that electric scooters could be driven along to take the strain off people with disabilities, and of course, electric scooter hire. You would have to park the scooter and walk around but the main distances could be relieved. I know that this may not be cost effective though.
We thoroughly enjoyed Deershed Family Festival and will be purchasing early bird tickets for 2017, when they go on sale on September 8th at 10am.
Love
*Disclaimer: We were kindly given two adult & 1 children's ticket in order to review the festival but as always, all thoughts and opinions are my own.